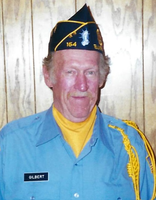 Richard L. Gilbert
GILBERT, Richard L.
Age 87 of Wellsboro, PA, formerly of Horseheads.
He was born September 27, 1930 in Elmira, NY, son of the late Harold Michael and Mary Louise (Roberts) Burdick, Wood and passed away Wednesday, October 11, 2017 at The Green Home in Wellsboro, PA.In addition to his parents he was predeceased by his loving wife Katheryna (Gula) Gilbert, sister Mary Gilbert, and brothers Franklin (Shirley) Gilbert and David Gilbert.
Richard is survived by his nephews James (Melinda) Jankowski, John Jankowski, and Jerry Gilbert; nieces Dawn (Larry) Whitmoyer, Diane Jankowski, Darlene (James) Durette, Donna (John) Hoyles, Debra (Mark) Terpolilli, and Connie Travers; great nieces and nephews James (Carla) Jankowski Jr., Jodi Jankowski & Jesse Jankowski, Melissa Gilbert, Seth (Hanna) Whitmoyer & Caleb Whitmoyer, Timothy Durette, Justin Hoyles & Rachelle (Paul) Miller, Alexandria & Andrew Terpolilli, and Jodie (Aaron) Sherman; great great nieces and nephews Luke & Kyle Jankowski, Corinne Shuemaker, Maya Whitmoyer, Cylis, Isaac, Eva, Owen & Hope Hoyles & Lyra Lesstino-Hoyles, Natalie & Justin Sherman. He served in the Army from 1951 to 1955. Richard was employed as a carpenter by Ward LaFrance, Elmira Heights. He also worked as a projectionist for the Colonial & Capitol Theaters. Richard was a member of the Clarence R. Oliver American Legion Post 154 in Elmira Heights, the Austin Cox American Legion Post 478 in Mansfield, PA, and served as a member of the American Legion Honor Guard. Family and friends are invited to visit Walter J. Kent Funeral Home on Monday, October 16, 2017 from 11 am to 1 pm. The Elmira Heights American Legion Post 154 will conduct a memorial service at the conclusion of calling hours. Richard's funeral service will be held at 1 pm. Committal and interment prayers will follow in Maple Grove Cemetery, Horseheads.