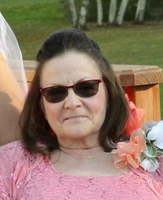 Susan Panyla
PANYLA, Susan
of Elmira Heights, NY.
She was born January 4, 1951 in Elmira, NY, daughter of the late Paul W. and Gwendolyn "Louise" Panyla and passed away Monday, October 23, 2017 surrounded by her family.
In addition to her parents, she was predeceased by her sister JoAnne Griswold.
Susan is survived by son and daughter in law David & Alysha Panyla- Mucci with their children Jacob and Alayna; nieces Jessica Guild with her children Jasmine Marks, Jared Marks, and Gwendolyn Nunis, Nancy Mesic with her children Kaitlyn and Brian, great nephew Kevin Ayers, along with many dear friends.
Susan served in the U.S. Naval Reserves and was a member of the First Presbyterian Church of Elmira. She loved to make people laugh and her children and grandchildren were her pride and joy. She will be remembered for her spirit and the love she shared.
Family and friends are invited to visit Walter J. Kent Funeral Home, 858 Lake St., Elmira on Saturday, October 28th 2017 from 11 am to 1 pm. Susan's funeral service will follow at 1 pm.
Private interment will be in Holy Trinity Orthodox Cemetery, Elmira Heights.