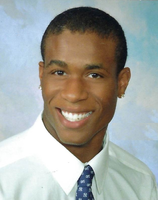 Monttryal N. Steadman-Jones
STEADMAN-JONES, Monttryal N.
age 27 of Elmira, NY. He was born May 3, 1990 in Elmira to Patricia A. Jones and the late David R. Steadman, Jr. and passed away Thursday, November 23, 2017 unexpectedly. In addition to his father, he was predeceased by his adopted father Kenneth L. Koski along with other family David R. Steadman, Sr., Margate Haines, Kervin Driscoll, Sr., Gene Jones, Loretta Ross, Renee Jones, Lewis Ross, Deborah Wilson, Tyrone Ross, Diane Ross, Theodore Wilson, Jr. and Howard Jones, Jr. all of Elmira and Rochester area. He is survived by his only son Peyrce Jones-Johnson; step daughter Payton Jones-Johnson and their mother Laura Johnson all of Corning, NY; nephews Jasiah Jones, MaCeon Steadman-Jones of Elmira and niece Diane Bofyld-Cooper of Rochester, NY; mother Patricia A. Jones; adopted mother Pat Koski and her children Greg Koski, Tim Koski, Kevin Koski Eric and Jill Koski; grandmother Aurelia Driscoll; brother Marquan Steadman-Jones; sisters Tranea Jones-Howard, Deasia Steadman-Broyld and Essence Steadman. Monttryal additionally leaves to cherish his loving memory, his uncles Howard Jones, Sr., Barry Jones, Kervin (Austinishia) Driscoll, Jr., Marcus Ross, Caleb Ross, Eben Ross; aunts Kerchelle & Jonathan Perez, Kernalia & Alex Andrews, Kertoya Driscoll, Kertaya & Anthony Dupree, Bree Ross along with a host of great aunts & uncles, cousins and friends.