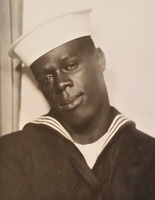 Troy C. Williamson
WILLIAMSON, Troy C.
Age 72 of Elmira, NY. Was called home on Friday, December 1, 2017. He joins his beloved mother and grandfather in eternal peace. He will also be reunited with his departed friends Dougie, Sonny and Charlie. Born in Fales, GA on December 19, 1944, he spent his youngest years with his maternal aunts and uncles. His uncle Boyzell, who Troy was named after, moved to Elmira in his later years. Troy cherished that time with him. The family moved to Elmira in the 50's. He attended EFA and joined the US Navy in 1963. He served his country honorably. He was especially proud of his time aboard the USS John R Pierce, DD753.
After living in NJ he returned to Elmira. He worked at and retired from Schweizer Aircraft. His move back to Elmira eventually brought him to the love of his life, Pam. They were drawn together by their Rottweilers, Krunch & Harley. After ten years of asking she said yes and they married on Catalina Island. On the connecting flight from Salt Lake to Long Beach one of their fellow passengers was the Dalai Lama, a good omen if ever there was one. They just celebrated their 10th wedding anniversary in September.
Troy loved everybody. He was called the 'Mayor of 1st St.' by his neighbors and was a favorite of children and dogs. Known as Uncle Troy to many, he taught all the kids to fish; that will remain with them always. He loved music and loved to sing, humming not so much. He was blessed to have a loving family and many friends.
He is survived by his cherished wife Pam; his children, Jerome (Kim) and Chrissy; grandchildren, Romeje, Shannon, Jerome, Nikita and Armand; great granddaughter Faith; sister Marylou with her children, Rod, Jenice, and grandchildren. He leaves his much loved in-laws and out-laws and a multitude of nieces and nephews along with his 'twin' Ronnie, nephews Roman, and Lucas, his 'pal & buddy forever'.
Many thanks to his mother-in-law Esther who made it possible for Troy to stay home with his dogs Daphne & Moses. Thanks to Ian, Dan & Pete whose kindness & friendship in the last few months made Troy 's heart smile. Thanks to nurse Stephanie, and to CareFirst. Finally, thanks to Dr. Reddy and his nurse Barb for all the years of care and kindness to Troy, you were family. Family and friends are invited to visit Resurrection Tabernacle, 954 Lake Street, Elmira, on Thursday December 7th 2017 at 11 am. Troy's funeral service will be held at 11:30 am. Rev. Gerald Glover Celebrant. Committal prayers, military honors, and interment will follow at Woodlawn National Cemetery, Elmira