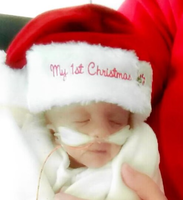 Ezra Michael Simons
Alington-Simons, Ezra Michael
Age 10 weeks, passed away peacefully in the arms of his Mema with his loving family by his side on January 3, 2018. Ezra was born October 26, 2017. Ezra is the infant son of Ashley Alington and Tyler Simons. He is survived by his parents Ashley and Tyler, siblings Maylynn, Lucian and Azariah; very special Mema, Christine Alington; uncle Ryan Alington; parental grandmother Lizabeth Scheffert; aunt, Taylor Simons; very special cousin Shymeek Alington; maternal great-grandparents Bob and Diana Alington; paternal great-grandmother Kathy Scheffert; along with a large extended family. Ezra's short life of 10 weeks was supported daily by his Mema Christine Alington and cousin Shymeek. During his short time on earth, Ezra touched many lives and was loved deeply by his family. Ezra was born with Trisomy 18 but his fight and determination taught us all how precious each little life is. He gave us all many hours of joy and his memories are everlasting in our hearts. Ezra enjoyed being cuddled and snuggled, listening to music, being sung to, and some days just the touch of the human hand and heart.
Family and friends are invited to visit at Walter J. Kent Funeral Home, 858 Lake St at Washington Ave, Elmira on Friday, January 12th from 4-5 pm with a reception to follow. The family would like to thank the amazingly supportive staff at Golisano Children's Hospital, Ronald McDonald House at Strong for all their love, compassion and support during this very tough journey. To our family and friends for all your love, prayers and support. For always stepping up with a helping hand, making room for one more in our home, transportation to and from, sharing a meal, a smile, a hug, just for saying I love you. Sometimes it's the smallest things that take up the most room in our hearts. Your daily support made this journey a little easier.
Ezra's final resting place will be at St. Peter & Paul's Cemetery Baby Land next to his uncle Jeremy Michael Alington.