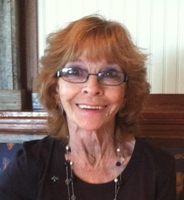 Nancy Wilkinson
Obituary of Nancy Wilkinson (nee Neish), age 74 of Horseheads, NY.
To all her friends, family, and health care service personnel; after a long and hard few years, we are sorry to say that on December 25th, 2018, Nancy passed away very peacefully, surrounded by family, and with her son and grandson by her side.
She was born on September 28th, 1944 in Elmira, daughter of the late James and Mary Jane Neish. She was predeceased by her son Keith Edward Seymour and her daughter Tammy Lynn Moore. She is survived by her son Michael (Amy) Seymour and her five sisters, Mary Lou Kelly of Elmira, Rosalie Pautler of Berne NY, Sylvia (John) Sullivan of Horseheads, Virgina Rausch of Florida and Donna Neish of Elmira Heights, along with grandchildren Lucas, John, Brian, Keith, Christian, great grandchildren, and her wonderful nieces and nephews.
She started working at Iszard's Tea Room in Elmira, and later moved to Mississippi, where she was a supervisor at the NCO Club at Keesler Air Force Base in Biloxi, MS. She later went to school to become a beautician and retired from that profession. Even after retiring, she kept herself busy moonlighting at the Main Street cafe in Horseheads. She always loved to play the organ and listen to music, along with watching her animal shows! Her love for her dog Bosco was one that could only be between the two of them and will never be forgotten.
Friends and Family are invited to join in celebrating her life at Walter J. Kent Funeral Home, 858 Lake St. at Washington Ave., Elmira on Thursday, January 3rd from 4pm to 7pm. Her funeral service will held there on Friday, January 4th at 11am. Committal prayers and interment will follow at Woodlawn Cemetery.