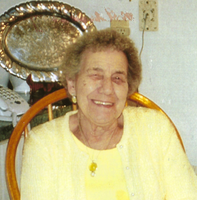 Grace M. Cokely
COKELY, Grace M.
Grace was born on July 26, 1925 in Canton, PA, daughter of the late Winfield and Myrtle (Carl) Campbell and went to be with God on Wednesday, April 10, 2019. She was 93 years young and died after a struggle with cancer. She passed away peacefully in her home. Grace was a devoted daughter, wife, mother, sister, grandmother and friend to many people. She enjoyed writing in her journal, reading, Soduku puzzles, sewing, crafting, family times, and decorating her home for any occasion. Also, she was "techno granny" and loved having her grandchildren show her how to use all the latest technology form her I-phone and Apple Watch to her Kindle reader. Grace was a member of Emanuel Episcopal Church in Elmira. In addition to her home decorations, people always commented about her impeccable care in her personal appearance where everything had to be coordinated, from her jewelry, clothing, shoes, purse to her beautiful nails. Surviving are her three children Berry (Kathy) Cokely, Patricia (Melvin) Lee and Pamela Forker; sister Coni Hill; sister-in-law Virginia Pouliot; son-in-law James Symonds along with grandchildren, great grandchildren, nieces, nephews, family friends and her canine companion "Taco". Grace was predeceased by her husband Harold; children Scott Cokely and Margo Symonds; brother Lawrence "Sunny" Campbell; sisters Beverly Simpson, Tessa Campbell and Winifred Ostrander; son-in-law Jerry Forker.
Her family would like to thank all the visitors over the many weeks and months, they always provided a pick me up to our mother, especially, her neighbor Wendy Spady. We would like to thank the many health care professionals at the Falck Cancer Center who showed great compassion and kindness to our mother during each visit. She always looked forward to visiting and sharing stories with the staff and other patients and all the fuss made about her fingernails. She also received loving care from all the staff at CareFirst, her best friend and caregiver for many months, Lorena Lamb, and all the other 24/7 caregivers, Cynthia, Barb, Marlene, Tanya, Suzie, Mary and Charlotte.
Family and friends are invited to visit Walter J. Kent Funeral Home, 858 Lake St. at Washington Ave., Elmira on Friday, April 12th from 5 to 7 pm. Her funeral service will be held there on Saturday, April 13th at 11 am. Rev. Robert Atkins will officiate. Committal prayers and interment will follow in Woodlawn Cemetery.