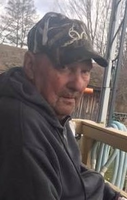 Jeffrey L. Frey
FREY, Jeffrey L.
Age 66, peacefully passed away at home on Wednesday, May 22, 2019, surrounded by his loving family. Jeffrey was born April 17, 1953 in Williamsport, Pennsylvania, to the late LaRue and Elizabeth (Garritt) Frey. Along with his parents, Jeffrey is predeceased by his brother in law Joe Schuller, and sister in law Patricia Frey.
Jeffrey is survived by his wife, Carma (Daw) Frey, and their children, Tracy (Rich Martin) Grimes, Carmi (Pastor Juhura) Shazer, and Debbie King. Grandchildren, Amber Grimes, Amadio Grimes, Addi Redder, Anasah DeMember, Jalasia DeMember, Cairo Shazer, Zaria DeMember-Shazer and Kyle King. Great-grandchildren, Dae'Veon Grimes, Kahmiye Grimes, and Ahzari Grimes. Brothers, Steven Frey, John (Carol) Jacobs, and Terry Jacobs. Sisters, Sandy Schuller, Joanne (Donald) Marsico, and Brenda "Bubby" Frey. Along with a host of nieces, nephews, cousins and dear friends.
Jeffrey retired from Hale Roofing and was an avid outdoorsman.
Special thank you to friends and caregivers Angelica Cardona and Caitlin Perry and the wonderful help and support from CareFirst.
Family and friends are invited to the American Legion, 316 Lake St., Elmira, New York, Saturday, June 1st at 1:00 PM for a celebration of Jeffrey's life.