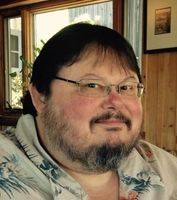 Stephen A. Christofaro
CHRISTOFARO, Stephen A.
Age 62 of Elmira, NY. He was born September 3, 1956 in Jacksonville, FL, son of the late Frank and Rosemary (Blessing) Christofaro and passed away Monday, May 27, 2019 at Geisinger Medical Center, Danville, PA after an extended illness. He was predeceased by his brother Daniel. Steve is survived by his wife of 36 years, Kathleen (McGlade) Christofaro; son Paul (Nicole) Christofaro with their daughter Sofia; daughter Elizabeth Christofaro; brother Joseph (Denise) Christofaro; sister Teresa (Ken) Ryan. Stephen owned and operated Christofaro's Lunch Break in downtown Elmira for many years. He was very proud of the restaurant and enjoyed his interactions with all his customers. Later he was employed with Macy's and Glove House. He was a Buffalo Bills fan and loved watching the games with his family. A Celebration of Life for Stephen will be announced at a later date.