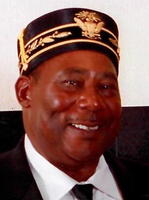 Nip Barton
BARTON, Nip
Born March 2, 1948 in Tallassee, AL to the late Margaret Howard Jones and Nippie Barton and passed away surrounded by his family at home on Sunday July 7, 2019. Nip leaves to cherish this life his wife and best friend, Karen Barton; sons, Sonny (Melissa) Barton of Las Vegas, NV, Cory Barton of Chicago, IL, Chad Meadows of Cleveland, OH, and Richard Gildersleeve of Elmira; daughters, Felicia Griffin of Opelika, AL, and Alexis Blue of Atlanta, GA; brothers, Wilbert (Bernice) Reed of Sayre, PA, Bennie (Cheryl) Howard of Tampa, FL, Robert Haynes of Tallassee, AL; sisters, Rita (Greg) Stucky of Horseheads, Wanda (Oros) Poole of Tallassee, AL, and Rosetta Hayden of Tallassee, AL; along with loving granddaughter Ariel Smith, and mother-in-law Lillie Barnes.
Nip moved to Elmira in 1968. Shortly after arriving, he joined the Masons, where he moved through the ranks; he received his 33°. Nip also later joined the Eastern Star; he held the position of Patron and Deputy Grand Patron. In 1971 Nip and his wife Mary opened Barton's Rest Home in Elmira. Nip was a brick mason by trade, later deciding to pursue a career as a lineman. He became the first African American to finish the program at that time. Upon completing the program, Nip landed a job at NYSEG where he started as a meter reader and retired after 33 years as a Chief Lineman. Nip is cherished by so many special friends and family members.
Family and friends are invited to visit Faith Temple COGIC, 722 Standish St., in Elmira, on Saturday, July 13th, 2019 from 1 pm to 2 pm. There will be Masonic Reflections offered at 2 pm; Willie Owens, 33° Worshipful Master, Mt. Nebo Lodge No. 82, F & AM, PHA. Nip's funeral service will follow at 3 pm. Private committal and interment will take place at a later date with Nip's family. A repass will be offered after services at the Ernie Davis Community Center, 350 E 5th St, Elmira, NY 14901.